In one of my previous tutorials, I explained step by step how to develop a REST web service in TIBCO BW6. This tutorial is a continuation to the same and you will learn how to Create EAR in TIBCO BW 6 from your project in business studio which can be later deployed in a domain.
What is an EAR
EAR (Enterprise Archive) is a deployment artifact which bundles all the required resources together so that It can be deployed into the run-time environment. An EAR is the only outcome from the development team that operations team requires in order to deploy the developed solutions and make them available for the intended users.
Once a solution has been packaged into an EAR, It can be deployed into the Application domain using TIBCO Enterprise Administrator, Admin Utility or directly from Business Studio.
How to Create EAR in TIBCO BW 6 Business Studio
There are two ways that can be used to create EAR file for a project in Business Studio once you have finished the development part and have tested your solution and you feel it is good to go with packaging and deployment in your run-time environments.
The first method to create EAR is to Right Click on the Application and choose Create Enterprise Archive (EAR). As you can see in below screenshot, I am creating EAR for the REST web service application that I developed as part of BW6 REST web service tutorial.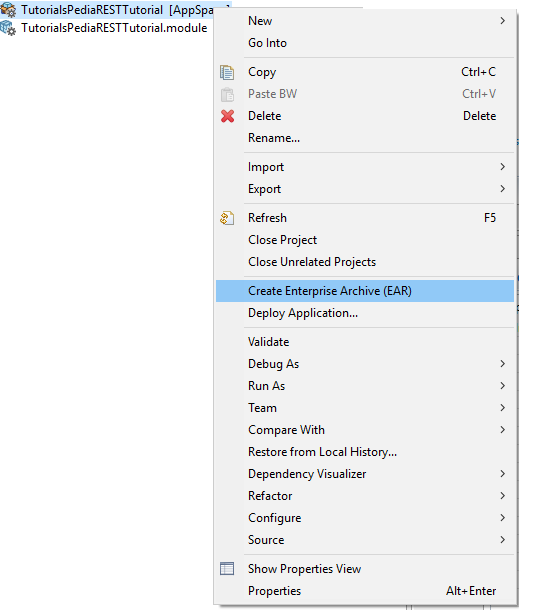 A new window will open asking you to choose the folder where EAR should be saved and also an option to choose default name for ear or making any naming changes. You can also choose between exporting EAR without profile or with profile.
Second method to create EAR from BW6 Business Studio is by going to File Explorer Tab and choose Open Directory to Browse and select the directory in your file system where you want to place the EAR file. Once directory is selected, just drag your application from Project Explorer to this directory under File Explorer tab and you will the EAR created under this directory as you can see below, EAR for our TutorialsPediaRESTTutorial has been created in the selected directory.

In another tutorial, I will explain how to deploy EAR in BW6 domain from Business Studio directly or using TIBCO Enterprise Administrator.