In this step by step tutorial, your will learn how to send and receive JMS queue messages in TIBCO. TIBCO EMS (Enterprise Messaging Service) is a standard messaging platform that simplifies and accelerates the integration and management of data distribution in high-performance, enterprise environments – enabling real-time decision-making and event-driven execution of business operations.
TIBCO EMS is actually a customization of Java Messaging Service (JMS) by TIBCO.  TIBCO EMS is one popular approach used for application integrations at enterprise level due to its reliability and efficiency.
In case of EMS based messaging in TIBCO, a centralized EMS server is used where queues and topics are maintained for storing and delivering EMS Messages. How TIBCO EMS messaging works? You will learn this by going through following easy and simple steps:
Step 1: Start EMS Server
First step in TIBCO EMS tutorial is to start EMS Server. Go to Start and open Run utility. Type services.msc in it and press enter.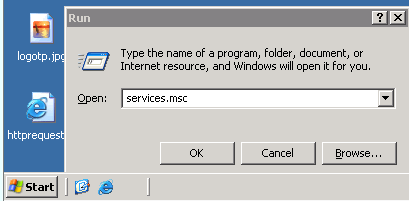 Now you should be able to see all the services in your windows machine. From the list of services, go to TIBCO EMS Server and start it by right clicking.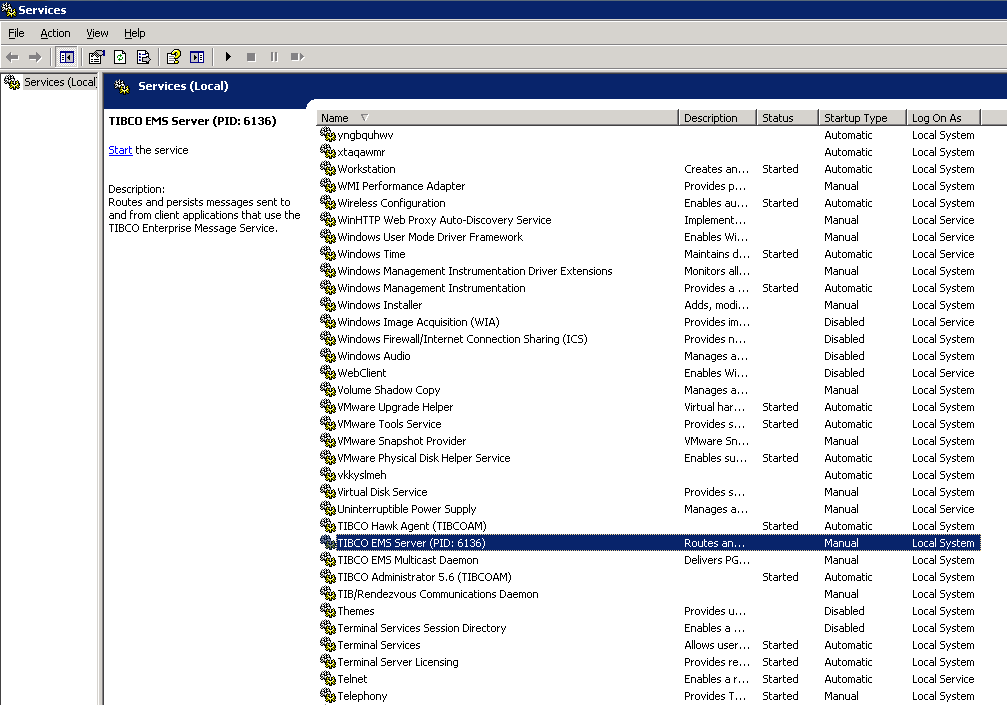 Step 2: Create JMS Connection in TIBCO
For communicating with EMS Server, we need to create a JMS connection first. Create a new JMS connection by going through Add Resources–>JMS–JMS Connection. Make sure that JNDI Context URL has tcp prefix before host and port details.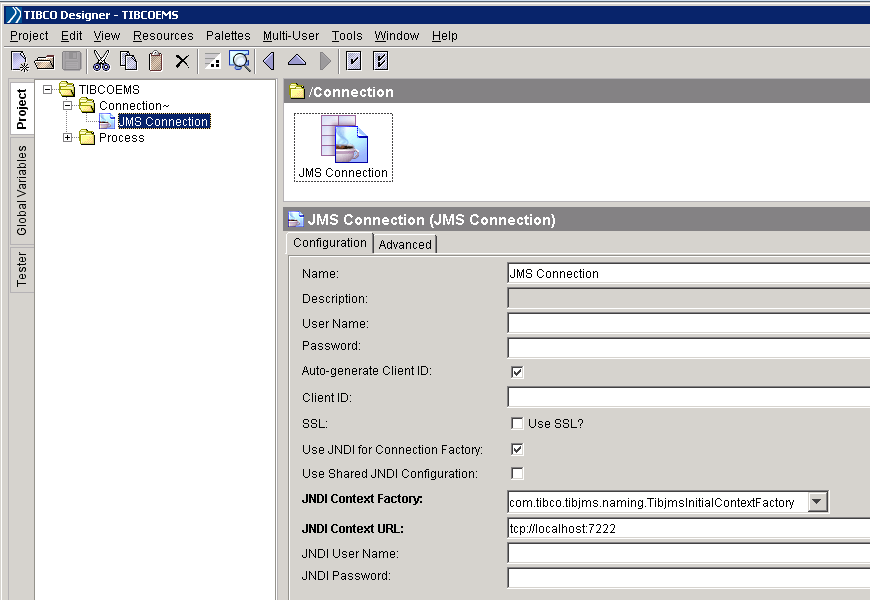 Now you need to test the connection to make sure it connects successfully to the EMS Server. Press Test Connection button for this. You should get a pop up window like below for successful connection:

Step 3: Create JMS Message Sender and JMS Message Receiver Processes
We need to create one process for sending JMS message to a queue at EMS Server and another process which will be receiving this message from the queue.

Now we need to do the necessary implementation in both of these processes. First we look into the SendJMSMessage process. In this process, use a JMS Queue Sender activity and specify JMS Connection and Queue name in its configuration. For this example, we will use a sample queue (queue.sample which is already present in the list of EMS Queues).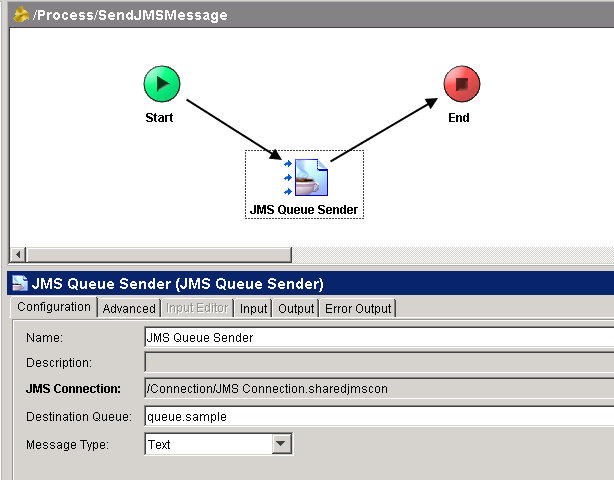 In the Input Tab of JMS Queu Sender, we specify text which should be in the body of JMS message being sent to EMS Server.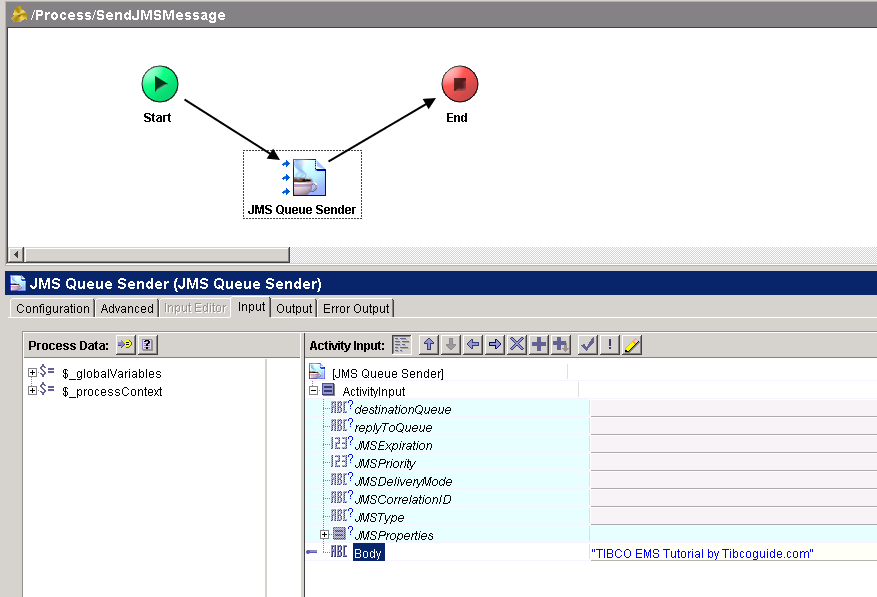 Now validate this process and if it validates successfully, we are done with SendJMSMessage process.
Now we move to ReceiveJMSMessage process. In this process, use JMS Queue Receiver activity as process starter. Specify JMS Connection and queue name in its configuration. Queue name and connection should be same as of other process.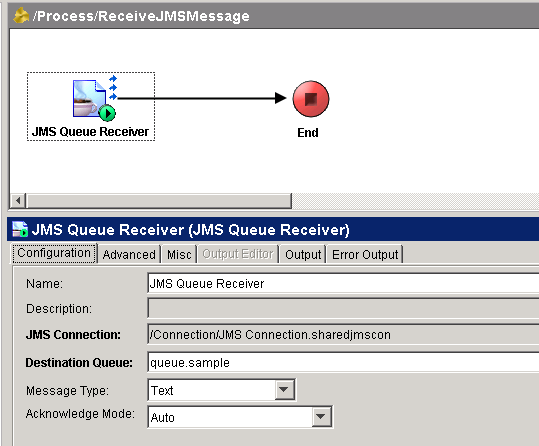 Validate the process and after its successful validation, we are good to go for testing our project.
Step 4: Test TIBCO EMS Queue Message Sending and Receiving processes
Load both SendJMSMessage and ReceiveJMSMessage processes in TIBCO Designer Tester.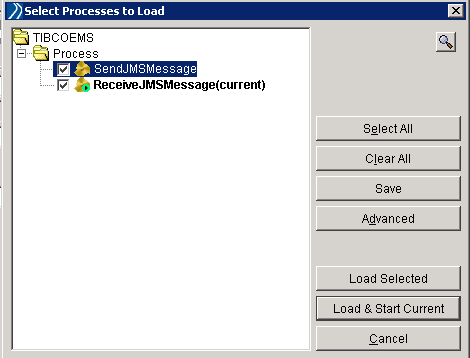 Create a new process instance of process SendJMSMessage by clicking on Create a Job icon on tester. You will see that SendJMSMessage process runs and also ReceiveJMSMessage process gets executed.

In the input data tab of JMS Queue Message Sender activity, we can see our message sent to EMS Server.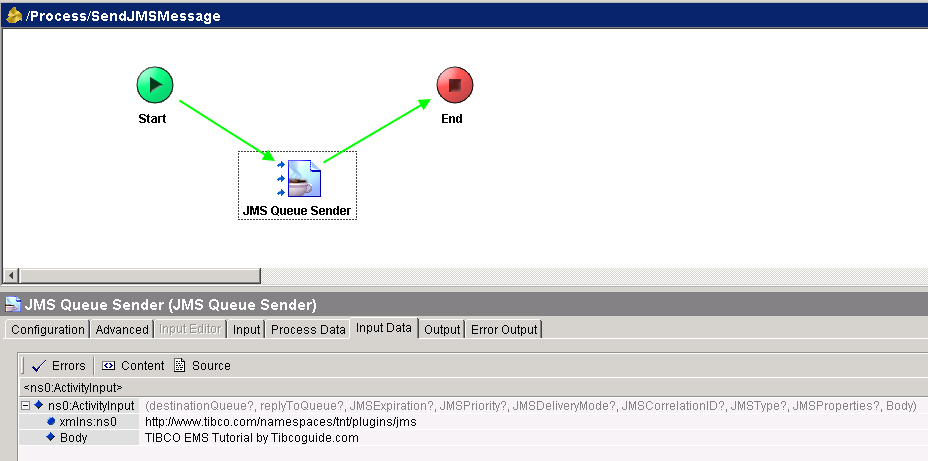 In the JMS Queue Receiver activity of other process, we can see our message successfully received by the subscriber process.
This completes our tutorial How to Send and Receive JMS Messages in TIBCO EMS queues.