Well today I have decided not to write some step by step tutorial on any TIBCO Topic, rather I am going to talk about some of the useful tips that can be very helpful for any TIBCO Development guy. Experienced TIBCO professionals might be aware of these things already but I am sure for many novice and intermediate level TIBCO people, these tips will be of a worth.
How to Specify Browser Path, JAVA Editor Path and Text Editor Path for TIBCO Designer?
One of readers of my blog contacted me once and said that he is unable to open What is This help pages for TIBCO designer activities as he mistakenly gave wrong path for the Browser at the time of installation. How to set it now to correct path?
Similarly, if you don't want to use default editors for JAVA Code and Text for your TIBCO designer based projects, you can choose your favorite editors by going to Administrationg–>Configure Preferences–>Other and then browse and choose your favorite editors and browser: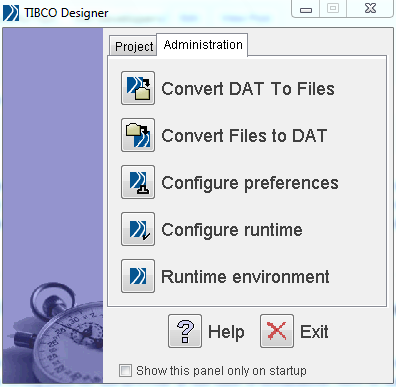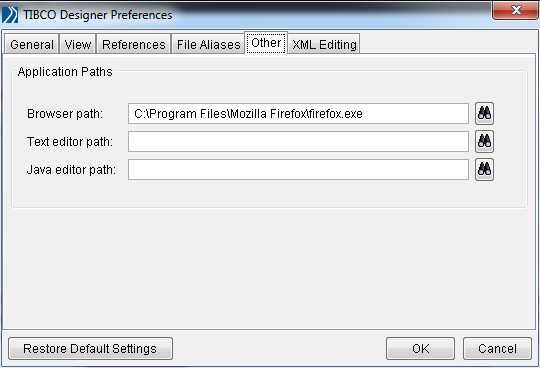 Please note that you can do the above changes by going through Edit–>Preferences option as well from any opened project in TIBCO Designer.
How to give different input for a Designer Tester Loaded Process?
When you design a TIBCO Designer process that expects some input parameters and you run it in designer tester by giving required inputs, It doesn't ask for the input again if you try to run it again by creating a new job without restarting designer tester. This is very tedious to stop and start designer again and again for such testing and debugging in designer.
TIBCO Designer gives you option to specify new input values every time before creating a new job in designer tester by pressing F12 or by choosing Supply Input data to tester option from the top menu as shown below:

How to find usage references of a Global Variable Usage in TIBCO Project?
Consider that you have EMS Based implementation of a large project and you have EMS queues and topics defined as Global Variables. You have a process where JMS Queue Publisher activity is used to publish the message to a queue. Now you don't know which process has a JMS Queue Subscriber listening on the same queue. Going through every process and checking for the Global Variable in the subscriber is not an option to make a sense.
TIBCO Designer provides facility to search for usage of a global variable. Go to Tools–>Find Global Variable Usages option and search for any global variable. You will get list of all such resources where that Global variable is used.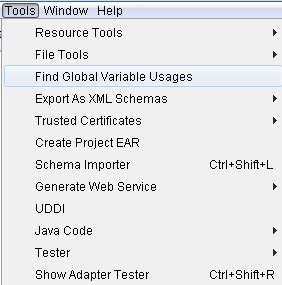 That's it for today. I will keep on sharing more valuable stuff in coming days. Keep visiting the blog and keep sharing your feedback. Thanks