TIBCO Domain Utility is used to create new administrator domains or manage existing domains. In this tutorial, I will teach you step by step, how to create a new administration domain in TIBCO using Domain Utility.
Step 1: Select a Category and Task in Domain Utility:
Go to start–>TIBCO–>Domain Utility and then open it. In the domain utility, select Domain Configuration in the category and Create a new Administration Domain in the task list as shown in below screenshot: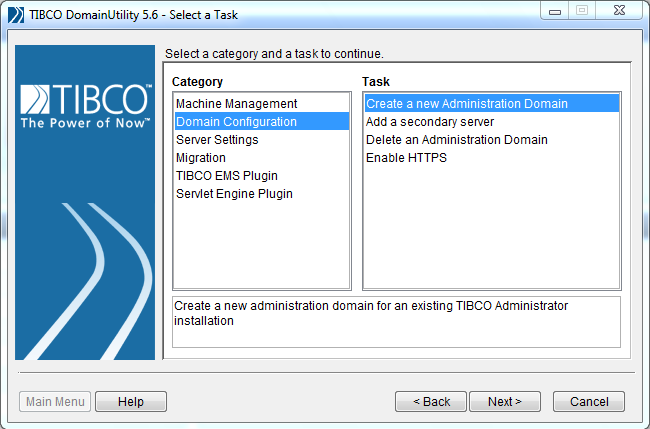 Step 2: Give domain name and other associated details:
Write a name for domain that you want. Also specify Project directory, Machine name, Hawk cluster and Encoding. In my case, I have just given the domain name and kept all others as default as you can see in below screenshot: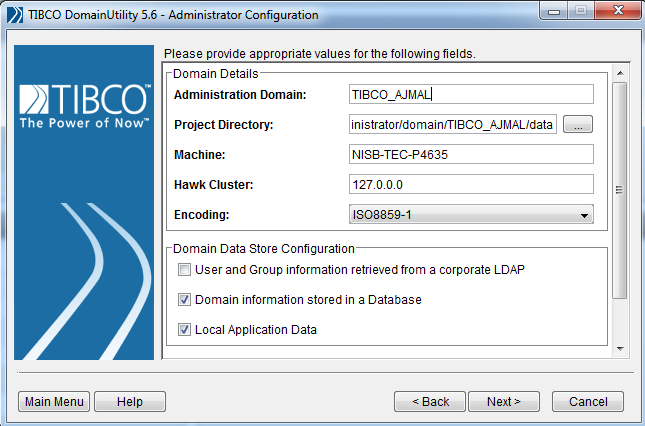 Step 3: Specify HTTP Port, Shutdown Port and Shutdown String:
In this step you will be asked to give a port number for http, shutdown and a shutdown string. You can use any available ports for this. My settings for these fields are shown below:
Step 4: Provide Administrative Credentials:
In this step, choose a username and password that you wish to use for your new domain as given in below screenshot: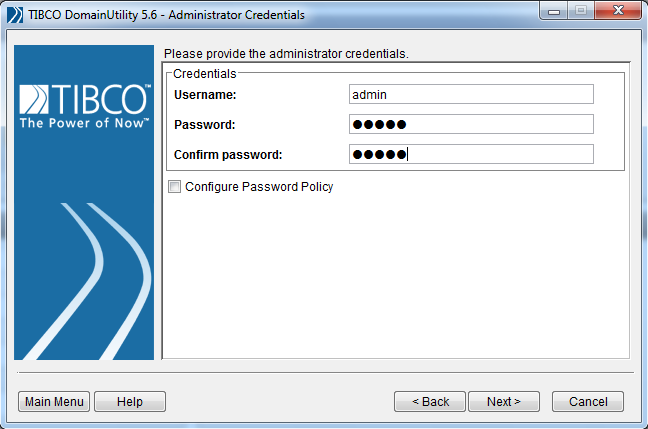 Step 5: Provide database configuration Information:
In this step you provide all necessary information which will be used to connect to the database. In my case I have Oracle XE database installed with SID as XE running on port 1521 in my localhost. Complete information given in this step is shown in the screenshot below: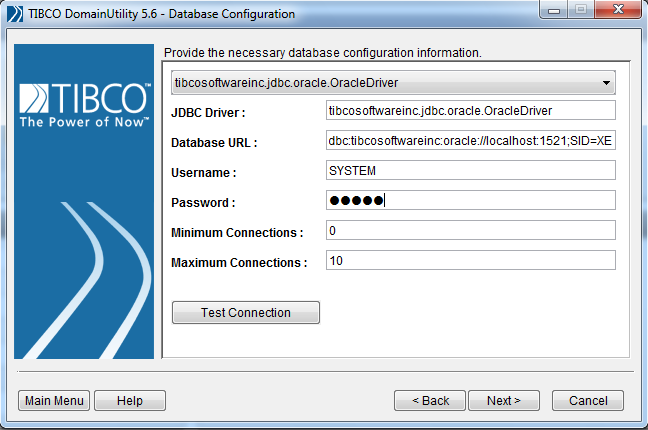 Step 6: Test Database connection:
After giving all required inputs in step 5, press Test Connection Button to verify that connectivity to the database is getting successful. As you can see in below screenshot, connection has successfully established with the database in my case: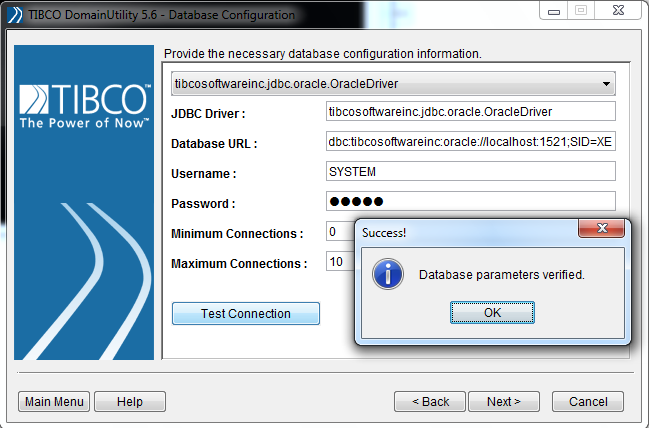 Step 7: Ensure all is good to go before domain creation:
Now you will see a window with all the details that you provided in previous steps. Verify that everything is fine and if good to go, just click next button: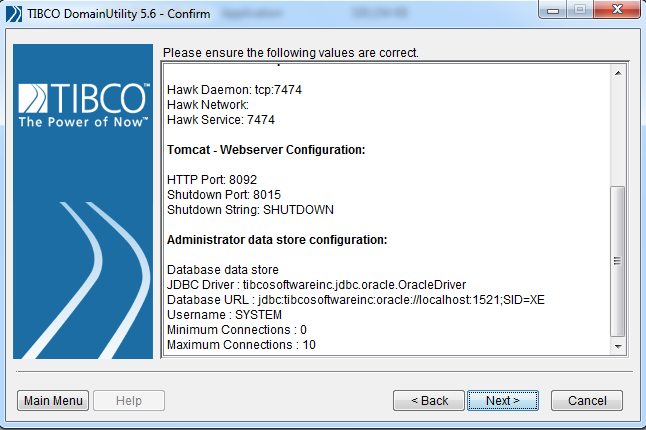 Step 8: Successful Creation of domain notification:
Now you will get a new window stating that domain has been configured successfully in TIBCO administrator. You will be asked to start administrator and HAWK agent NT services for the newly created domain as shown in below screenshot: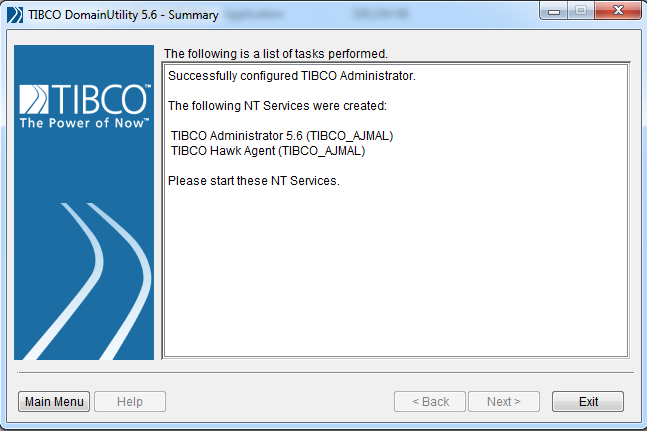 Step 9: Go to NT Services using Cmd Prompt:
Go to Run–>CMD and type services.msc

Services will open up and you will see that both administrator and HAWK agent services of our newly created domain can be seen there but both are yet not started as seen below: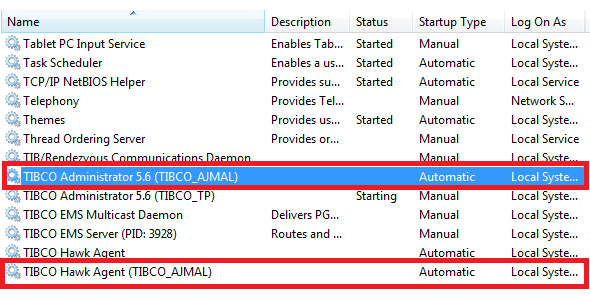 Step 10: Start NT Services for new domain:
Right click on administrator service for new domain and click start. In a few moments, it will get started. Also right click on Hawk agent and start it. As you can see in below screenshot, both services have been started now: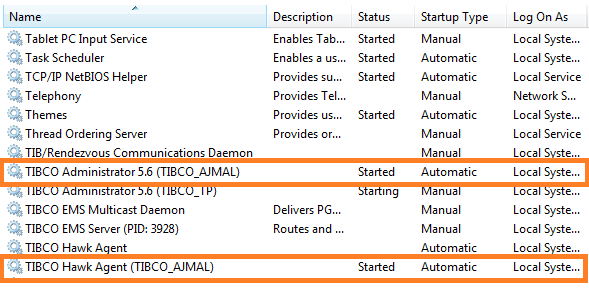 Step 11: Go to TIBCO administrator to see the list of domains:
Now our work on domain utility is completed and our domain has been created. From start menu, go to TIBCO and then to TIBCO administrator. You should see newly created domain in the list of domains as shown below: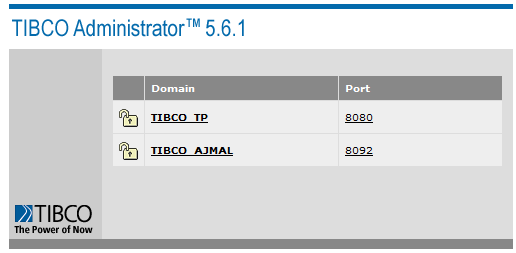 Step 12: Login to new TIBCO Domain:
Choose our new created domain (TIBCO_AJMAL) and click on it. You will be asked to give username and password to login. Give same user and password as you specified while creating the domain: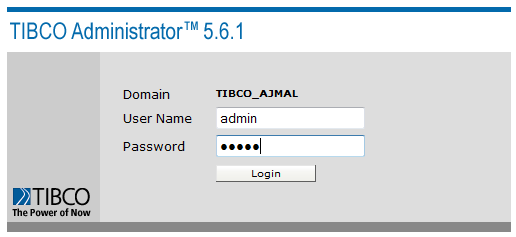 Step 13: Verify Login Successful to TIBCO Domain:
After giving username and password in step 12, click Login. As you can see in below screenshot, login to new domain is successful and we are now good to go to do anything we want with our new domain:

Now you can deploy your EAR files in TIBCO administrator. You can refer to the tutorial on how to deploy ear in TIBCO administrator for further help.