TIBCO provides a large number of activities grouped into different palettes which can be used to design BW processes to achieve certain business functions. TIBCO also enables users to create their own custom activities which refer to some business process which has underlying implementation for the custom activity. Custom activity once created can be added to a Custom Palette and then It can be used in any process in the same way as other typical activities are used.
In this Step by Step TIBCO Tutorial, I will explain how to create custom activity in TIBCO BW and then add this activity to a Custom Palette and use it in any process.
Step 1: Create a Process implementation of Custom Activity
In order to create a custom activity, first we need to create a process that implements functionality of the Custom Activity. Once the implementation of this process will be done and It will be incorporated in the custom activity, Its implementation will be hidden (encapsulated).
I am creating a simple process with the name Check Eligibility which will take PlayerName as an input and will return Status as an output.  For simplicity, I am not going to put much logic inside this process and will return Status just by comparing the name of player with a Global Variable Value as shown below: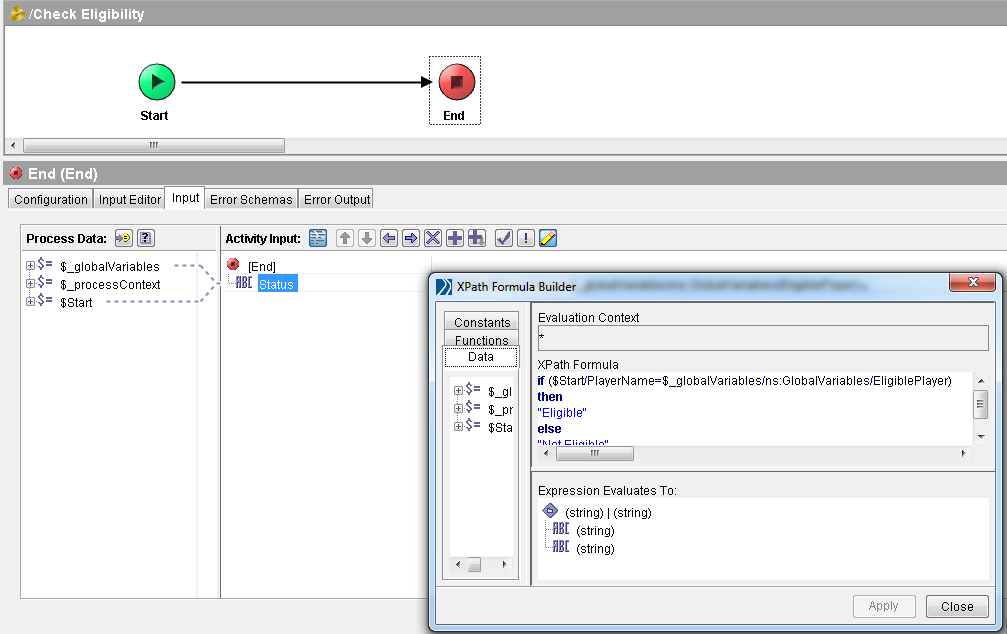 Step 2: Create Custom Activity and Add it to Custom Palette
Custom Activity can be added to TIBCO Designer Project by dragging Custom Activity resource from General Activities Palette.
In the Configuration of Custom Activity, give it some name and also browse and choose the process that we implemented in previous step. You can even choose a gif image as custom icon of your custom activity.

Step 3: Use Custom Palette activity in a Process
In this step, we will first Add a New Custom Palette and then drag our custom activity in this palette and then will use the activity in implementation of a test process.
To Add a Custom Palette, go to Palettes–>My Palettes–>New Palette option. Give some name to this palette. I named it as Player in this example.
Now you will see My Palettes tab under Palettes tab. Go to this tab and then drag your custom activity in the Palette. As you can see below, custom activity has been added to the Palette: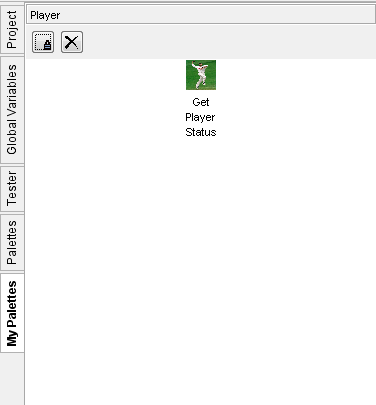 Step 4: Test Custom Palette Custom Activity in Designer Tester
Now we have successfully implemented a new Custom Activity and have added to a custom Palette, we can proceed with testing it in a test process.
Create a Test Process in which drag this Get Player Status Custom Activity and give it some PlayerName as input as shown below:
Now if you run this process in designer tester, you will get Status as Eligible as output of custom activity as PlayerName matches the Global Variable value. (If you give any other input, you will get the Status as Not Eligible).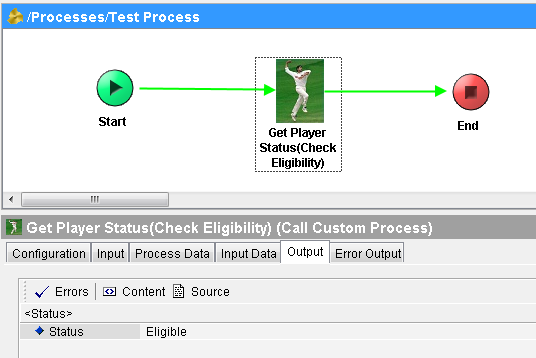 This completes my tutorial on TIBCO Custom Activity and Custom Palette. Feel free to contact for any further queries or help. Thanks